The November 2022 newsletter of Let's Move in Libraries includes:
Our final call for participation in StoryWalk® Week 2022
An opportunity to bring bilingual (English/Spanish) StoryWalks to your community
An upcoming event on safe walking and bicycling routes to libraries
News you can use on food security and public librarianship
Funding opportunities for U.S. librarians
This month's featured image comes from our partner the Association of Bookmobile and Outreach Services. We are thrilled to be working with ABOS for our second annual StoryWalk® week celebration. From November 7-11 our social media will be full of StoryWalk stories from around the world. Submit your story using this StoryWalk Submission Form.
Who is eligible to participate? Anyone! We welcome all to share their efforts to combine reading, trails, paths, and public space. Whether you call your effort a StoryWalk®, a story trail, a book trail, a poetrywalk, or something else, we want to feature you in this international celebration!
What can I share? The form asks you to upload a photograph documenting your StoryWalk. Ideally, the photograph should be from the past year. It can also include flyers for upcoming events, if your library plans a StoryWalk, but not yet done it.
When can I share? The form will be open through November 3, so share now!
How can I see what has been shared? The StoryWalk photographs and captions will be shared on Let's Move in Libraries social media, on the social media of the Association of Bookmobile and Outreach Services, and on the Let's Move in Libraries webpage.
For inspiration, look at the archive of the inaugural StoryWalk® Week 2021, which featured nearly 500 submissions for public librarians in 49 states, the District of Columbia, and over a dozen from other countries.
Let's get even more StoryWalk stories shared in 2022!
An opportunity to bring bilingual (English/Spanish) StoryWalks to your community
During October, Syncretic Press, an independent publisher of children's books in Spanish, reached out to us to share the fact that they now offer ready to go Bilingual Book Walks, a fun and educational activity that modifies and adapts a children's book to be displayed in a set of large panels along a popular walking route in a plaza, park, school or other community spaces.
They deliver their Book Walk installations nationwide and can have them ready for you within 20 to 30 days of your order.
Enrique J. Moras of the press shared with us the following information. Their Book Walks have been installed in the following communities:
New Mexico State Library, NM
Appoquinimink Community Library, DE
City of Las Cruces, NM
City of Crane, TX
Carousel Park, DE
Rock Creek Forest Elementary School, MD
City of San Luis, AZ
Rockwood Park, DE
Wareham Elementary School, MA
Buttonwood Zoo Park, MA
Glasgow Park, DE
Here is what their Bilingual Book Walk service entails
They offer three different kinds of displays:

Metal – permanent & fixed to the ground
Wood – movable and standalone displays
Wood – designed to be attached to a wire fence

The Stories they offer are printed in 2 different materials:

6 mm outdoor-ready boards, printed with UV and fade-resistant ink.
1 mm flexible outdoor-ready sheets, also printed UV and fade-resistant ink.

Their stories can be purchased or rented.  On our rental plan they offer annual, semiannual and quarterly agreements. Clients can opt to receive 1 new story every month, every 2 months or every quarter.
Currently available titles include the following titles – downloadable pdf of Book List. They also offer three new titles every quarter.
Learn more at their Bilingual Book Walks webpage.
Syncretic Press is not the only publisher that has started to offer ready-to-install StoryWalk titles.
Curious City DPW also offers a variety of titles that are ready to install.
Of course, you are also allowed to create your own StoryWalk at no cost using book titles that you or your library own, as long as you do not digitally alter them in any way. Get started on our StoryWalk resource page.
An upcoming event on safe walking and bicycling routes to libraries
Are you ready to connect, engage, & innovate in terms of what you can do to ensure that there are safe routes to walk, bicycle, and use a wheelchair to get to and from your library? Now is the time to register for the virtual three-day Safe Routes to School Summit 2022, taking place November 15-17. Whether you're a librarian, an active transportation professional, community advocate, parent volunteer, or school champion, the summit offers sessions for all areas. Topics include: keeping Safe Routes to School relevant,  partnerships between Safe Routes to School and public libraries, and sustaining the movement and building the future – just to name a few. Register today.
As part of the Summit, we're thrilled to be joining public librarians from Arkansas, Oregon, and Michigan for "From Bikes to Books: Exploring Partnerships Between Safe Routes to School & Public Libraries." This session focuses on the following: "Students have busy schedules that extend beyond the school day. They need safe routes to after school programs, libraries, recreation centers, parks, and other community destinations. Learn how Safe Routes to School practitioners can partner with librarians on active transportation initiatives."
This event is organized by the Safe Routes Partnership, which is in the early stages of developing a Safe Routes to Libraries program. More information to come in a future newsletter!
News you can use on food security and public librarianship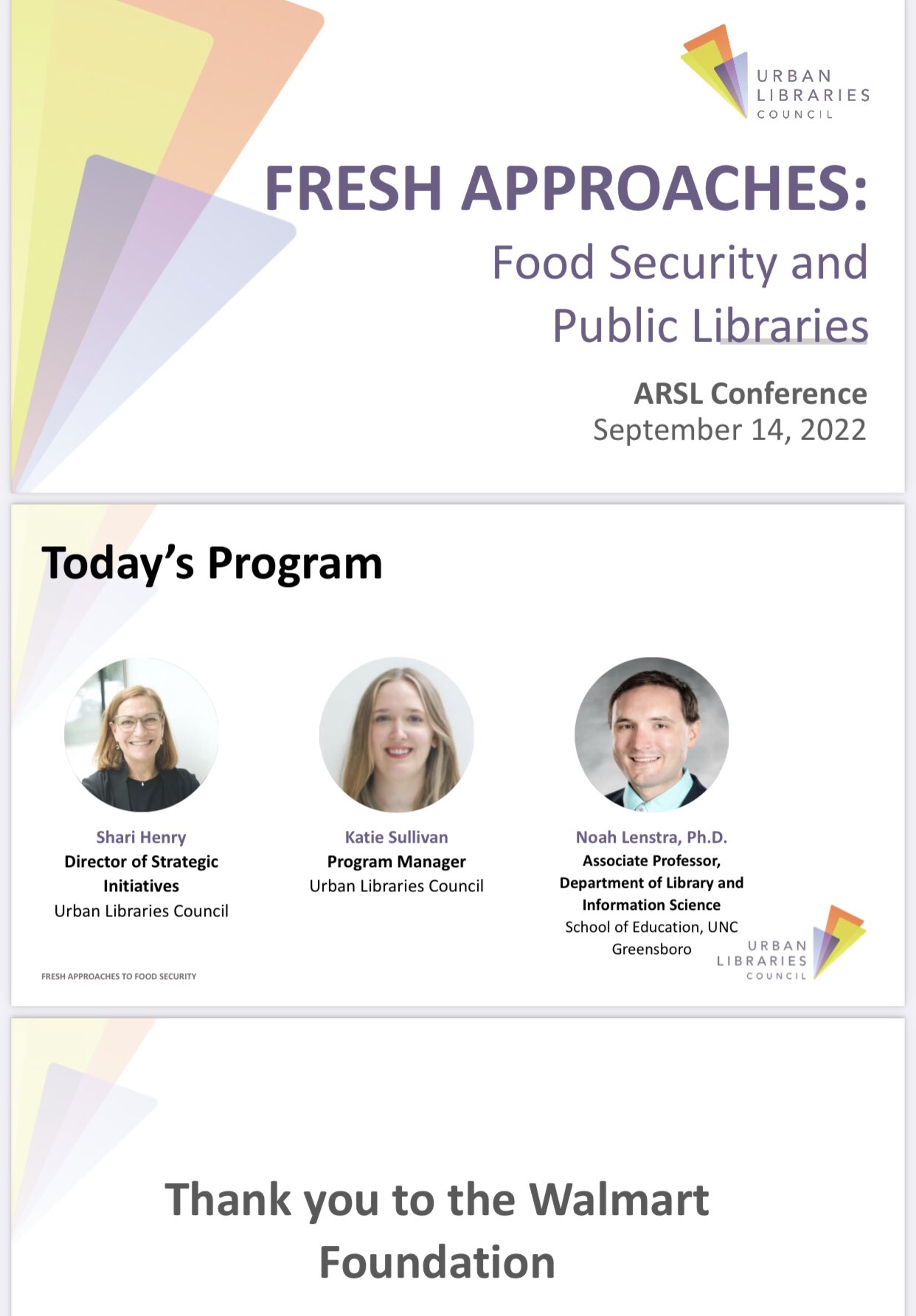 Earlier this Fall, the Association for Rural and Small Libraries Conference featured a session on Fresh Approaches: Food Security and Public Libraries. It was an amazing conversation on this important topic. We shared some inspiring examples from our Institute of Museum & Library Services funded project HEAL (Healthy Eating and Active Living) at the Library.
With support from the Walmart Foundation, the Urban Libraries Council is working with the Association for Rural & Small Libraries (ARSL) to explore strategies public libraries might employ to address food insecurity in communities across the United States. You are invited to please take two to five minutes to complete this short survey (or forward to a colleague) to help inform us about current library practices supporting food security.
Additional resources from the session:
Please do not hesitate to reach out if you have questions about any of these resources or would otherwise like to connect. We would love to hear from you and learn about your food security efforts!
Funding opportunities for U.S. librarians
On October 18, the Safe Routes Partnership hosted a webinar on "Building Connections: How Communities Can Use Federal Funds to Connect People to Place, Opportunity, and Each Other." The webinar featured a number of funding sources U.S. public librarians can use for creative outdoor programs, including StoryWalks, renovations of library greenspaces, and much, much more.
Here are a few highlights:
National Endowment for the Arts Grant programs 
Grants for Arts Projects: Awards range from $10,000 – $100,000. Grant period: 1-2 years
Our Town Grants:  Awards range from $25,000 – $150,000. Grant period: 1-2 years
National Park Service
The Outdoor Recreation Legacy Partnership (ORLP) Program is a nationally competitive federal grant program that provides new or significantly improved recreation opportunities in economically disadvantaged communities located in park deserts.
Learn more at Grants.gov or in the Trust for Public Land's toolkit.
The LWCF State and Local Assistance Program (often referred to as "LWCF Stateside") is administered by the National Park Service, and provides matching grants to state, local and tribal governments to create and expand parks, develop recreation facilities, and further local recreation plans.
A number of public libraries have received this grant – as can be found in the Trust for Public Land's interactive database of grant recipients.
Transportation Alternatives Program and Recreational Trails Program
What it funds: The major federal source of transportation funding for bicycling, walking, and creating safe routes in communities.  In Little Rock, Arkansas, "One year after a pop-up demonstration project to connect the Arkansas Children's Library, Little Rock Zoo, and War Memorial Park, the City of Little Rock received $1 million in TAP funding to install permanent walking and biking lanes at that site. This project connects these essential community assets to nearby neighborhoods that live close to the park and library but are separated from them by Interstate 630."
Every state receives funding, and there is funding setaside for communities of all sizes. The TAP program is administered by state departments of transportation and
in urbanized areas, metropolitan planning organizations. Learn more and get started with these helpful links:
Infographic on how money gets from federal government to communities
State-specific fact sheets with how much funding your state has and when competitions are next held
State profiles and database of projects funded by Recreational Trails Program
Information from Federal Highway Administration on this program.
What funding sources do you utilize in your library to try new things? Let us know!
Was this newsletter forwarded to you?
 Subscribe to the Let's Move in Libraries newsletter for monthly editions of success stories, educational opportunities, and food for thought that will deepen the impact of movement-based programs and services in public libraries. Also follow the project on Facebook, Instagram, and Twitter to stay up-to-date. The Let's Move in Libraries project focuses on how public libraries create opportunities for individuals of all ages and abilities to engage in healthy physical activity.