Since it began in 2016, the Let's Move in Libraries initiative has featured stories of public libraries that get us moving! This page tells some of those stories. We would love to feature your story! Reach out to us, and we can set up a time to talk.
LET'S MOVE IN ATLANTA! FULTON COUNTY LIBRARY SYSTEM, ATLANTA, U.S.A.
The Fulton County Library System is the largest library system in the State of Georgia, and beginning in Fall 2018 Let's Move in Libraries Advisory Board Member Michelle Bennett-Copeland has worked to bring the initiative to Atlanta. The library staff heard a calling from citizens who wanted to better their mental and physical health, and therefore many branches have for years offered programs and workshops related to health and wellness, including cooking demonstrations, workshops with nutritionist, and yoga, tai chi, dance, hip-hop dance, and more, for both children and adults.
According to Michelle, "the idea is to allow the library to be a one stop shop to meet community needs. Our library supporters enjoy engaging in physical activities not just for exercise, but for socializing as well." Our research has found this to be true as well. In fact, a 2017 survey found that the biggest impact of movement-based programming in libraries across North America is "Community Building."
Michelle Bennett-Copeland, MLS, CPM, and Christy Dyson, MLS, shared some photos and videos of these programs in action. Way to move!
AGELESS GRACE® AT THE LIBRARY SHREWSBURY PUBLIC LIBRARY, MASSACHUSETTS, U.S.A.
The library launched the Good Day Memory Cafe in October 2016. A memory cafe is a welcoming place for people with forgetfulness, Alzheimer's or other forms of dementia and their caregivers to get together for an afternoon of socialization. Music, games or other fun activities are offered as entertainment. One of the activities that was very popular was lead by Amy Podolsky, a national Ageless Grace® Brain Health Trainer and Educator. Set to great music, Ageless Grace® Brain Health is like a party in a chair!
Ageless Grace® Brain Health Fitness is based on the cutting-edge science of Neuroplasticity, and is an invigorating, unique workout for your Brain and your Body. This class is ideal for anyone who wants to stay youthful and vibrant, and especially for those who like to laugh and have fun! The brain is hugely complex organ, and whereas we used to think it was static, hardwired, and unchanging, neuroscientists now support the idea that our brains can in fact change form and function throughout our lifetime(s), specifically when activated by physical movements that involve the brain. In this class everyone gets to PLAY, like we did when we were kids, which is when many new neuropathways were developed in the first place! In this class, participants engage the five primary functions of the brain (Strategic Planning, Memory & Recall, Analytical Thinking, Creativity & Imagination, and Kinesthetic Learning), while simultaneously addressing the 21 physical skills needed to stay functionally fit.
In addition, the library has been offering Pranayaam Yoga classes for the general public since 2017. Bindu Gupta, a regular library patron and volunteer, had been learning and practicing yoga since her childhood and wanted to teach a traditional hatha yoga class exploring a range of traditional yogic breathing exercises (pranayaams). The response was great with an average attendance of 8-10 people. She has been leading quarterly sessions of 4 weeks per session for the past two years.
OUTDOORS ACTIVE PROGRAMS WOODFORD COUNTY PUBLIC LIBRARY, KENTUCKY, U.S.A.
Building upon seven years of successful indoor Yoga programs, the Woodford County Public Library now finding new ways to get people moving outdoors. The library now offers outdoors Tai Chi at one branch and Trail Walking at its other branch.
Adult services librarian (and Yoga instructor) Emily Saderholm said "we are very fortunate in that the two libraries in our county both back up to public parks – large, urban parks that have suffered in the past that are now being rejuvenated by community groups."
When the library decided to add Tai Chi to its programming, the instructor saw the adjacent park and thought it would be the perfect place for classes. Watch it in motion: The library posted videos of their Tai Chi in the park programming.
The other branch's Trail Walkers group grew out of a walking group the library had done on sidewalks the previous year. Now that the neighboring park has been revitalized, participants in the group enjoy a lovely walk in the 28-acre woodland park.
Midway Library manager, Stacy Thurman, had this to report on their first Trail Walkers meeting: "A patron that joined us for our last trail walk said that his doctor had told him that he needed to walk for at least 20 minutes a day. He was happy to have the opportunity to walk with other people in the community instead of by himself on a treadmill. Another lady said that she had been wanting to explore the trails behind the library but was afraid to do so by herself, for fear that she would fall and not have anyone around to help her. The Trail Walkers program is great for both physical and social well-being!" Here is a photo she took of part of the scenery along the trail. You can see the active train line and some lovely KY thoroughbred horses behind the summer flowers.
Saderholm said that the walking groups engaged "people who normally did not come into use the library," extending the library's impact in the community. The library is a great place to do these walking groups since it has a large parking lot with water fountains and bathrooms available. Staff are in the building as well, in case help is needed.
Through these programs, the library fills a need not addressed elsewhere. Saderholm said many people have been responding positively to "outdoor exercise that isn't available elsewhere." The community does have a local fitness facility and a gym, but they do not offer Tai Chi. She said the library is "offering this as a fitness event for people who can't get it anywhere else." Doing all these active programs requires being flexible. Saderholm said "we're still learning how to bring these new things to people."
The library pays the Tai Chi instructor, but the Yoga classes are led by Saderholm, and a different library staff member leads the walking groups. All participants sign waivers of liability that Saderholm developed in consultation with legal counsel. But during her seven years of leading Yoga at the library, Saderholm has never had any participant injure themselves. The Yoga, Tai Chi, and Walking are all intentionally kept easy and slow and mindful. Furthermore, Saderholm said in her Yoga classes she emphasizes the connections between brain and body, asking participants "does this feel good or does it feel bad?" And if it feels bad, don't do it. By emphasizing safety, the Woodford County Public Library is finding new ways to extend access to healthy physical activity both indoors and outdoors.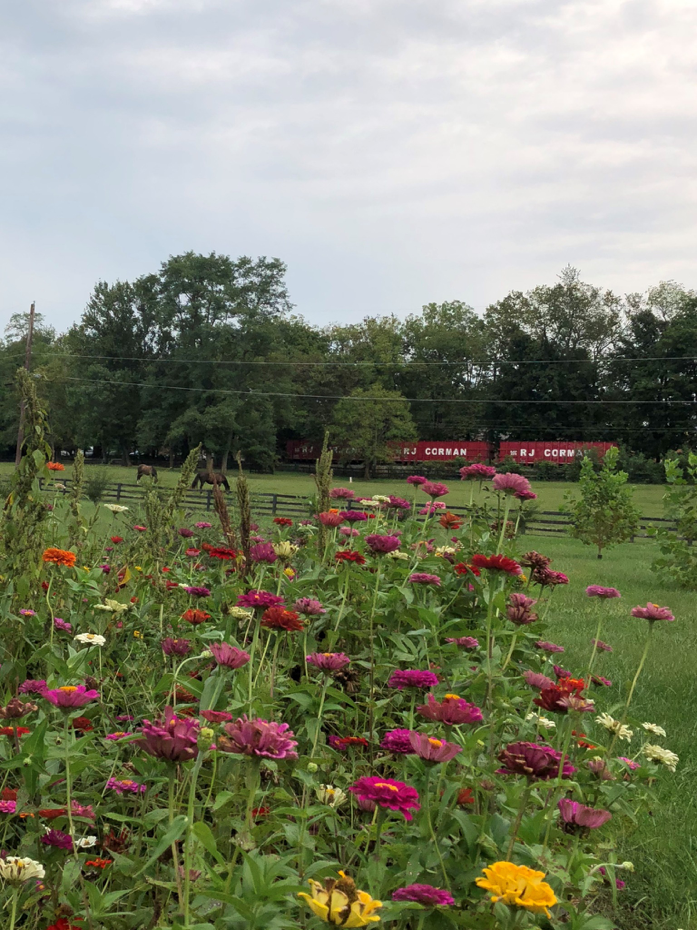 Lessons learned: Given the right weather conditions, physical activity programs can easily be taken outside.
Remind participants to pay attention to their bodies. That way you can prevent injury and encourage healthy physical activity.
Find out what physical activity needs are not being met in your community, then work with partners to fill them!
Take advantage of natural amenities near your library for outdoor programming.
Couch to 5K Runners Group SHREWSBURY PUBLIC LIBRARY, MASSACHUSETTS, U.S.A.
Ready to give running a try? Bring your community along with you! That is what Caitlin McKeon Staples, Reference Librarian, did. Inspired by resources Let's Move in Libraries gathered on running programs in libraries, and in particular a library in Iowa that did a Couch to 5K program in 2012, Caitlin and staff at the library started by reaching out to a local running store (Marathon Sports). She found that the store was thrilled to work with the library on this free program: The running store donated their time, gift certificates, and more. Caitlin said that "They have been so supportive. It's nice to have that community partnership." The library also partnered with physical therapists (All Access Physical Therapy) and nutritionists to bring healthy living more generally into the program.
To make the program as unintimidating as possible to those new to running, Caitlin identified a casual 5K that only costs $5, and The Friends of the Library paid registration fees for participants. The program was open to 30 participants, and to incentivize participation the library created a punch card: Come to at least 2/3 of the runs and you enter a raffle for prizes paid for by the Friends of the Library. With the running store, the library organized three group runs a week, with different library staff joining the groups on different days. The running store provided waivers of liability that all participants signed. The library also asked participants to sign waivers: They developed the form used based on resources gathered by Let's Move in Libraries.
In the end, eight individuals completed the entire program. Caitlin was "very happy with that number since the program was such a huge commitment. The best thing (apart from now being able to now run, myself) was seeing the accomplishment of participants in the group. Everyone was so happy. It was one of the most positive programs I have been involved in." One thing Caitlin did learn for next time was that the prizes don't really matter: "Most of the participants didn't care one way or the other if they got a prize. The real prize for them was succeeding in the program." Whether or not the library organizes another Couch to 5K program, the Shrewsbury Public Library now has new community partners they can turn to for this or other health programs in the future.
Fun Fit Pass @ The Library PICTOU-ANTIGONISH REGIONAL LIBRARY, NOVA SCOTIA, CANADA
What if you could go to the library and sign out a gym membership, just like a book? Oh wait! You CAN if you're in Pictou County, Nova Scotia! Beginning in March 2018, Active Pictou County and the Pictou-Antigonish Regional Library have made available "Fun Fit Passes @ the Library" – a fitness and activity membership card that can be signed out of the library, just like a book. There are 3 pass cards available for the YMCA of Pictou County, plus a card for the Pictou Fisheries Pool, and one for True Potential Fitness in Pictou. The cards are valid for either an individual or a family, and give the user full access to the facility, including most programming, for a two week period. A hold for the pass can be placed online through the library catalogue or by calling any of the library branches.
Active Pictou County Coordinator, Sally O'Neill, said "The Library offers much more than books, and has such a great reach, it's an excellent partner for this project." The program is made possible by the Facility Access program of the Nova Scotia Department of Communities, Culture and Heritage. Community Services Librarian Trecia Schell, said "The program has been very well received (the fit passes have growing waitlists to be borrowed by library patrons!)." Some people have registered for regular YMCA/Gym memberships after having borrowed the Fun Fit Pass from the library, and visited the facilities.
Monday Movement at May Memorial ALAMANCE COUNTY PUBLIC LIBRARIES, NORTH CAROLINA, U.S.A.
In a community needs assessment, the library learned that health and wellness was a key concern. Library staff then attended a session led by Let's Move in Libraries at the October 2017 meeting of the North Carolina Library Association. Inspired by what they learned there and from the Let's Move in Libraries website, such as the Fitness Fridays program offered Friday mornings during the Summer at Lawrence (KS) Public Library, staff developed the "Monday Movement at May Memorial" program.
Every Monday from May to July, 2018, patrons experience new forms of movement, including Yoga, Tai Chi, Zumba, and Walking. Library staff lead walking and Yoga programs (a staff member is a certified yoga instructor) and the library pays the Tai Chi and Zumba instructors. Programming librarian Melissa Kammerer said staff "thought a lot about how to include a range of fitness levels and interests" in the program. "Zumba will be too high intensity for some but Yoga and walking would be great for them." If all goes well during Summer 2018, the library hopes to sustain "Monday Movement" as an ongoing program.
SMYRNA STRONG SMYRNA PUBLIC LIBRARY, GEORGIA, U.S.A.
Smyrna Public Library launched its "Smyrna Strong" collection in January 2018, timing the launch to coincide with New Year's resolutions. Residents of Smyrna, Georgia, could check-out fitness equipment, games involving physical activity, sports equipment, and backpacks for hiking at no cost. Smyrna Strong supports residents' resolutions to live healthier lives. All items in the collection can be checked out for one week at a time and can be renewed. Mary Wallace Moore, Library Director said, "We got all our ideas from the Let's Move in Libraries webinars and articles. My City Administrators love, love, love this."
Lessons learned: Talk to your stakeholders about what other libraries are doing to support physical activity. You may be pleasantly surprised at how supportive they will be.
EXERCISE AT THE LIBRARY GALAX CARROLL REGIONAL LIBRARY, GALAX, VIRGINIA, U.S.A.
Since 2016, the Galax Virginia public library has offered at least one free exercise class a week. As of March, 2018, up to three exercise classes a week are available, including E-Z Exercise Mondays, Revv it Up Tuesdays, and Cardio Thursdays. The library also offers occasional classes in Yoga and Qigong. Every class is an hour and is held in the library's meeting room. Participants sign liability waivers and exercise at their own pace using workout videos in the library's collection. A staff member is present as a participant too.
Pam Russell, staff member said "Let's Move in Libraries understands how libraries REALLY work and the trials and tribulations of starting and maintaining new programs. Thanks for giving us ideas about how other libraries manage the challenges we have experienced. That is valuable feedback that."
Lessons learned: Reach out to other librarians to get advice. We are all figuring out this new reality together. Let's work together to bring movement to libraries!
CHECK OUT MOVEMENT AND HEALTHY LIVING AT YOUR LIBRARY ROCKLAND PUBLIC LIBRARY, MAINE, U.S.A.
In spring 2018, the Rockland Public Library received a $2,500 grant from the Maine Public Library Fund to help fund activities and events promoting the theme, Check out Movement and Healthy Living at Your Library. The library is developing events and activities for adults of all abilities and ages to encourage more movement and activity for healthy living. Patty King, Deputy Library Director reached out to Let's Move in Libraries to get ideas on how the library could effectively use this fitness and movement grant. Let's Move in Libraries connected her to other libraries with successful programs. The Rockland Public Library is developing a series of balance and walking classes, plus five fitness kits for library circulation.
Pictured from left to right, Deputy Library Director Patty King and Library Director Amy Levine at the Rockland Public Library.
Lesson learned: Seek external funding to get your new programs off the ground. Public libraries have successfully received local, state, and national funding to develop innovative, movement-based programs and services.
PHYSICAL LITERACY CHINOOK ARCH REGIONAL LIBRARY SYSTEM, SOUTHWESTERN ALBERTA, CANADA
When Lisa Weekes left the Lethbridge (Alberta) Public Library to become the Public Services Manager for the Chinook Arch Regional Library System, she brought her physical literacy programming expertise to her new role. At Lethbridge she and her staff successfully partnered with sports and recreation groups to develop fun physical activity programs for children and adults. At Chinook Arch, Lisa developed a new Physical Literacy collection and a series of training modules for librarians about how to incorporate physical activity into their programs. The library system purchased a series of equipment and large-scale games (e.g. juggling scarves, giant checkers, and an indoor mini-golf set) suitable for a wide range of ages and abilities. This equipment helped member libraries develop barrier-free, active living programming. In partnership with Lethbridge College and its Be Fit for Life Centre Chinook Arch offered workshop instruction on physical literacy for member libraries.  This expanded the librarians' understanding of the range of possibilities available. The Let's Move in Libraries supported this initiative by consulting with Lisa and her staff and by providing a letter of recommendation for one of their awards. Weekes spoke about the importance of these programs saying," We have very long winters in Canada, and people are desperate to stay active during these months. As a parent, I know that you can't just keep going to McDonald's Play Place. Rural communities need a place for activity in winter," and the library can fulfill that need.
The photos, courtesy of the staff at Lethbridge Public Library and the Chinook Arch Regional Library System, provide examples of physical literacy programming at Lethbridge Public Library, and show the Chinook Arch Regional Library System receiving an award to bring physical literacy collections and programs to rural libraries throughout Southwestern Alberta.
Two options to learn more:
Lessons learned: Don't be afraid to reach out! At Lethbridge and at Chinook Arch, Lisa Weekes reached out to many people to help develop physical literacy collections and programs.