Strike when the iron is hot (and heat it up if it is not!)
Michelle Willis is the director of the Scotch Plains Public Library in New Jersey. She's lived in the community since the age of 15 and has worked her entire career at this library.
Throughout that career, she endeavored to work collaboratively with the town's Parks & Recreation department, but to no avail. Michelle said that for many years the Parks & Recreation department director was not interested in collaborating with others. "The previous recreation director was not a very collaborative person," according to Michelle.
When that individual retired, his role was filled by DJ Salvante. Michelle made a point of getting to know him immediately.
DJ said, "I think when I came here [to Scotch Plains], Michelle was probably the second person I was introduced to."
And from that initial conversation, the two partners were off to the races!
The partnership has been so successful, in fact, that DJ was working with the New Jersey Recreation and Parks Association on providing his colleagues with some continuing education opportunities on the topic of how to "leverage the library."
This strategy of noticing what's happening in the community, and being attuned to opportunities to hitch the library to what's happening, has been foundational to the success of the Scotch Plains Public Library. Learn more below!
This case study is part of HEAL (Healthy Eating and Active Living) at the Library, funded by the U.S. Institute of Museum & Library Services (# RE-246336-OLS-20)
Key Take-Aways from this case study:
Reach out to make connections with other city/county departments – especially when there are new hires!

Reciprocal collaboration is key for sustaining relationships and community partnerships

Be ready to share both what the library is already doing and what the library could do with some help from the community

Notice opportunities for collaboration by joining in community initiatives (like the mayor's wellness campaign)
Background to Scotch Plains
Scotch Plains is a township in Union County, in the U.S. state of New Jersey. The township is located on a ridge in northern-central New Jersey, within the Raritan Valley and Rahway Valley regions of the New York metropolitan area. As of the 2020 United States census, the township's population was 24,968. In 1940, only 4,993 people lived in the township.
The library – built in 1968 – reflects a time when the community was much smaller. A major initiative focuses on building a new library. The Mayor of Scotch Plains said that the new library "will expand its role as a community-focused facility offering more programming, resources, and improved information necessary to meet our communities' growing needs for the next 50 years. The plans also include an outdoor plaza that will be part of the library's main entrance and will expand the space that the library will have for activities and outdoor programs."
In its current building, the library has to offer most of its programming in the basement meeting room, which is not as well set up for large events, fitness classes, or cooking classes, but nonetheless the library and its partners have made the space work.
Despite being known for its suburban character – median family income is $126,138 – Scotch Plains is physically close to Plainfield, New Jersey which has high poverty and large BIPOC populations. Many from that community utilize Scotch Plains library programs. Furthermore, like every city in America, Scotch Plains has pockets of poverty, and the library is seen as "friendlier" in public's eye, compared to city hall or other government access points. 
In terms of health promotion, the library has a long tradition of striving to serve "the whole child." Director Michelle Willis has her background in youth services librarianship and has been a leader in the American Library Association's Association for Library Services to Children (ALSC). Willis has always looked for opportunities to bring fun, enriching activities to the youth of Scotch Plains, including cooking, gardening, and play and movement activities.
Hitching the library to the Mayor's Wellness Campaign
In New Jersey, the Mayors Wellness Campaign is a statewide community health initiative that provides evidence-based tools and strategies for mayors and community leaders to help their residents achieve healthier lifestyles and to improve overall health and wellness in their communities. (The New Jersey Health Care Quality Institute has been leading the Mayors Wellness Campaign in partnership with the New Jersey State League of Municipalities since 2006. The campaign includes over 400 participating communities, and is growing. Learn more here.)
One of the most successful ways the Scotch Plains Public Library got involved in health promotion was by joining the local Scotch Plains Mayors Wellness Campaign.
The idea of joining this campaign came about because of an entrepreneurial librarian who saw the opportunity and jumped on it.
Lisa Thornton started working at the Scotch Plains Public Library around 2012, but had not considered the library as a health partner until she started working on her Master's of Library & Information Science at Rutgers University around 2015. There, she took an elective course on health services in libraries taught by Kaitlin L. Costello, which inspired Lisa to continue her education by securing a Consumer Health Information Specialization (CHIS) offered to her at no cost thanks to an initiative called Stand up for Health offered by the National Library of Medicine. Lisa encouraged other staff members at the Scotch Plains Public Library to also get their CHIS certifications, and, through that, she built up a group of librarians interested in working with her to pursue health partnership opportunities.
Lisa found a kindred spirit in Margaret Heisey, Scotch Plains's Deputy Municipal Manager. Margaret oversees the Mayors Wellness Campaign, providing continuity from one mayor to the next. Margaret said the library had been involved with the campaign from the beginning – including by offering blood pressure checks and a healthy habits class at the library in 2014 – but it wasn't until Lisa Thornton and her colleague Jennifer Miller from the library got involved that the library's participation in the campaign accelerated.
As Margaret said, "Thank goodness for Lisa, and for the team over there for getting their CHIS certifications, because it was such a natural partnership and fit."
Margaret said the library has been especially helpful in reaching older adults. Reaching seniors utilized the library's virtual exercise programs offered during the COVID-19 Pandemic to stay physically and mentally fit. Margaret said that the library has become among their "most valuable partners" thanks to the active involvement of librarians like Lisa and Jennifer.
Margaret's advice to other individuals in her role is, "I would say that you are doing yourself and your residents a disservice if you don't involve the library from the get-go."
Where will it lead? The possibilities are endless!
The possibilities keep expanding within health opportunities between libraries and community partners. StoryWalks, cooking classes, walks in the parks, container gardening classes, healthy kids classes, eating to run programs, Felenkrais classes, taster classes of rec center classes, and so much more can evolve.
These have been the fruits of this library's efforts to notice what's happening and to get involved where possible. Learn more in the links below: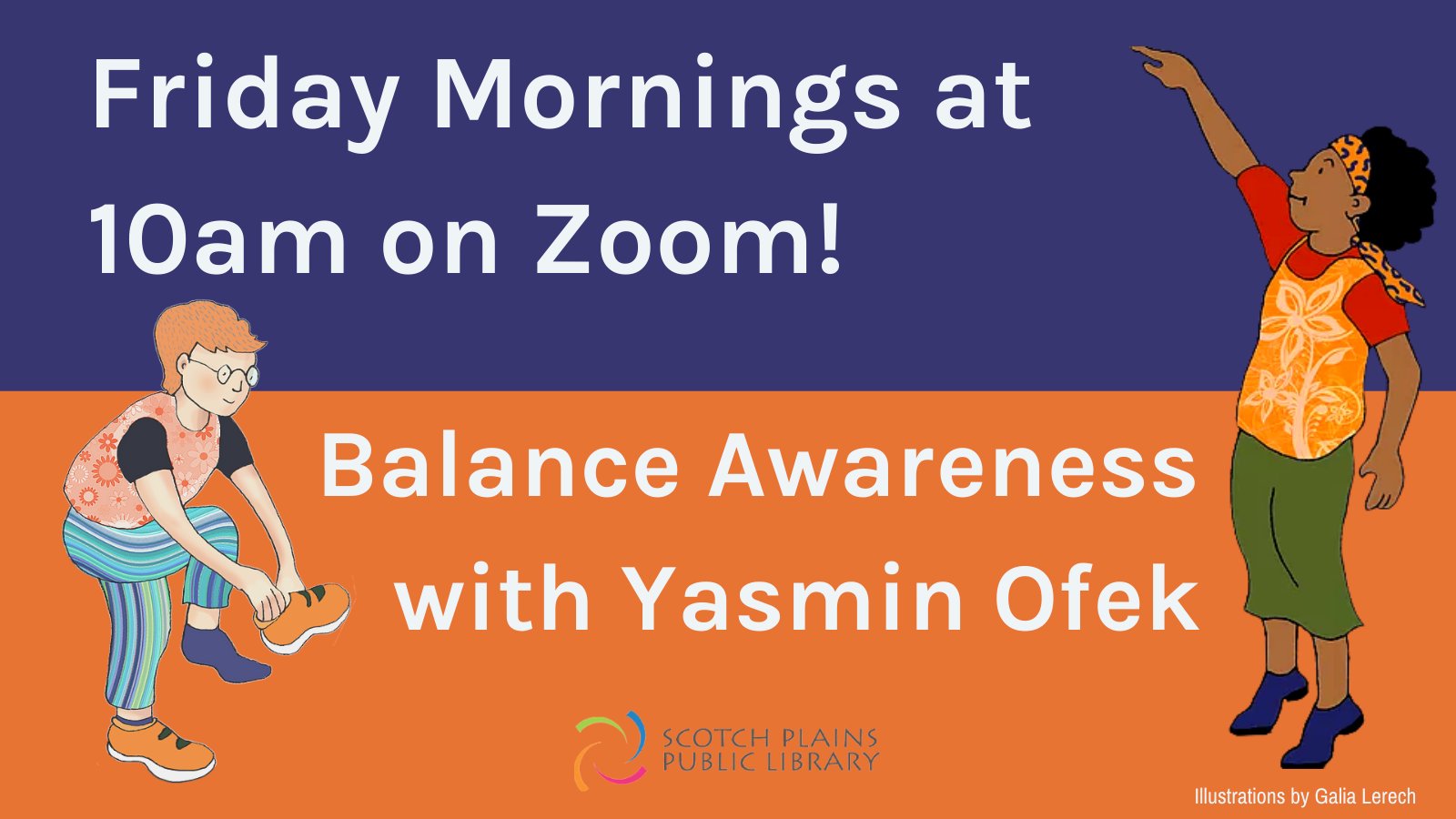 Action Steps: Getting started by noticing what's happening and asking to be involved
Getting started starts by:
Thinking about who else cares about health in your community,
Getting connected to them, and then
Working with them.
In Scotch Plains, that has included multi-sector organizations like the Mayors Wellness Campaign, but also the YMCA, Parks & Recreation, gardeners, JCC of Central New Jersey, and so many more.
More Action Steps:
This work also involved librarians making it known that they care about community health. The communication of that message accelerated when a library staff member focused first her Master's of Library & Information Science education, and then her continuing education work around this topic. That expansion into adult health partnerships built upon a legacy of successful youth partnerships focused on the whole child.
Persistence pays off – Do not expect every potential partner to immediately see the value of a library collaboration. Sometimes you literally have to wait for someone to retire to really make progress on a particular partner. But the good news is that in virtually every community there are always more potential partners!
Look for ways to deepen relationships – The library has been somewhat involved in the Mayor's Wellness Campaign since it came to Scotch Plains, but it took a visionary librarian to see the opportunities to go deeper with that relationship, leveraging it to its fullest.
How could you use these strategies in your community?
Deepen your learning with our Cultivating the Relationship-Driven Library toolkit.