WOODFORD COUNTY PUBLIC LIBRARY, KENTUCKY, U.S.A.
Building upon seven years of successful indoor Yoga programs, the Woodford County Public Library now finding new ways to get people moving outdoors. The library now offers outdoors Tai Chi at one branch and Trail Walking at its other branch.
Adult services librarian (and Yoga instructor) Emily Saderholm said "we are very fortunate in that the two libraries in our county both back up to public parks – large, urban parks that have suffered in the past that are now being rejuvenated by community groups."
When the library decided to add Tai Chi to its programming, the instructor saw the adjacent park and thought it would be the perfect place for classes. Watch it in motion: The library posted videos of their Tai Chi in the park programming.
The other branch's Trail Walkers group grew out of a walking group the library had done on sidewalks the previous year. Now that the neighboring park has been revitalized, participants in the group enjoy a lovely walk in the 28-acre woodland park.
Midway Library manager, Stacy Thurman, had this to report on their first Trail Walkers meeting: "A patron that joined us for our last trail walk said that his doctor had told him that he needed to walk for at least 20 minutes a day. He was happy to have the opportunity to walk with other people in the community instead of by himself on a treadmill. Another lady said that she had been wanting to explore the trails behind the library but was afraid to do so by herself, for fear that she would fall and not have anyone around to help her. The Trail Walkers program is great for both physical and social well-being!" Here is a photo she took of part of the scenery along the trail. You can see the active train line and some lovely KY thoroughbred horses behind the summer flowers.
Saderholm said that the walking groups engaged "people who normally did not come into use the library," extending the library's impact in the community. The library is a great place to do these walking groups since it has a large parking lot with water fountains and bathrooms available. Staff are in the building as well, in case help is needed.
Through these programs, the library fills a need not addressed elsewhere. Saderholm said many people have been responding positively to "outdoor exercise that isn't available elsewhere." The community does have a local fitness facility and a gym, but they do not offer Tai Chi. She said the library is "offering this as a fitness event for people who can't get it anywhere else." Doing all these active programs requires being flexible. Saderholm said "we're still learning how to bring these new things to people."
The library pays the Tai Chi instructor, but the Yoga classes are led by Saderholm, and a different library staff member leads the walking groups. All participants sign waivers of liability that Saderholm developed in consultation with legal counsel. But during her seven years of leading Yoga at the library, Saderholm has never had any participant injure themselves. The Yoga, Tai Chi, and Walking are all intentionally kept easy and slow and mindful. Furthermore, Saderholm said in her Yoga classes she emphasizes the connections between brain and body, asking participants "does this feel good or does it feel bad?" And if it feels bad, don't do it. By emphasizing safety, the Woodford County Public Library is finding new ways to extend access to healthy physical activity both indoors and outdoors.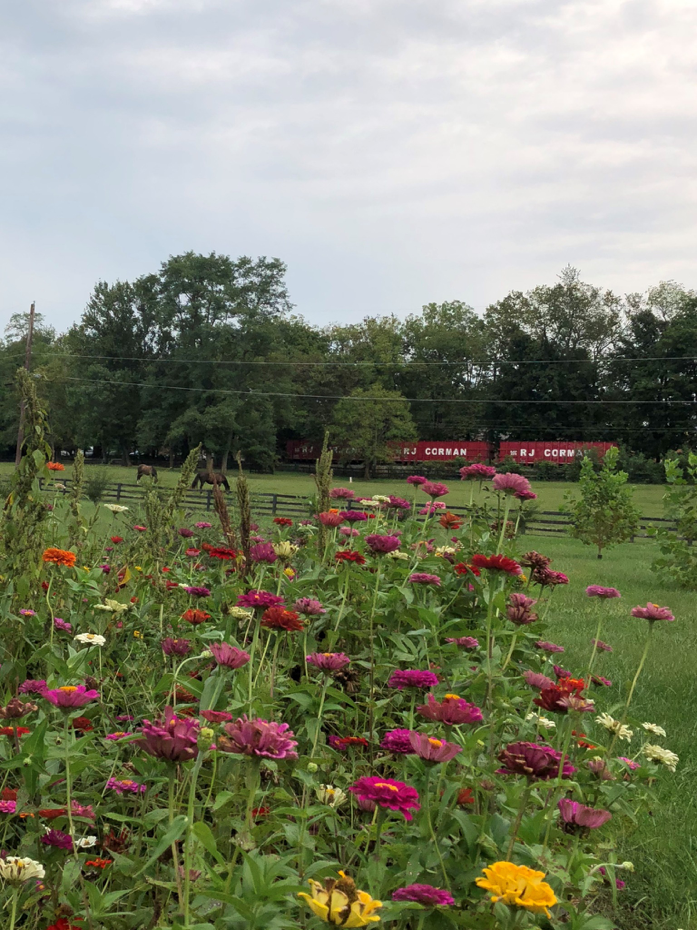 Lessons learned: Given the right weather conditions, physical activity programs can easily be taken outside.
Remind participants to pay attention to their bodies. That way you can prevent injury and encourage healthy physical activity.
Find out what physical activity needs are not being met in your community, then work with partners to fill them!
Take advantage of natural amenities near your library for outdoor programming.