"Let the Summer of StoryWalks begin!" proclaims PEI Public Library!
Welcome to the July 2021 edition of the Let's Move in Libraries newsletter. This month's featured image comes from Prince Edward Island, Canada, where librarian Shelley Tamtom of the Kensington Heritage Library recently installed at a local park the bilingual StoryWalk(R) "The Thing Lou Couldn't Do" by Ashley Spires.
Thanks to a national collaboration featuring Toronto Public Library, Library and Archives Canada, and The Ready Commitment (TD), "More than 1,100 Canadian public libraries are hosting this StoryWalk® this summer!"
The kits sent to participating libraries are re-usable: The organizers hope participating libraries will reuse the stands for future StoryWalk® programs. Learn more about this initiative on the TD Summer Reading Club StoryWalk(R) webpage.
Get started with this program on our StoryWalk(R) resource page.
How does the Summer of StoryWalks look at your library? We'd love to hear from you!!
We'll be celebrating stories like this one in the first ever StoryWalk(R) Week, a collaboration between Let's Move in Libraries and the Association of Bookmobile & Outreach Services (ABOS) taking place November 15-19, 2021.
Walking, rolling, and inclusive language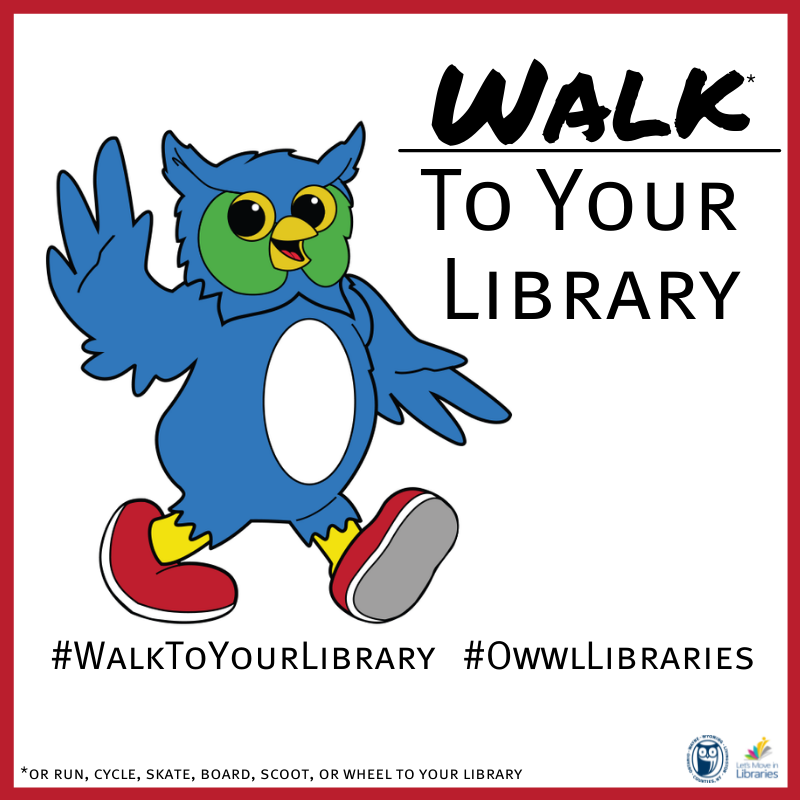 As the StoryWalk movement continues to pick up steam, we think it's important to remind everyone about the importance of language and spaces inclusive of all abilities and ages. These programs are not just for children. In Wisconsin, Tim Powers of Fitchburg Public Library reports that "As we were installing [our StoryWalk], adults, retired people, people on their rollerblades, people taking their children for a walk: All were stopping and reading the book." We think it's important to say that these programs are not just for walking, and they're not just for children. Alternate framings like Trail Tale, and paths that are accessible to wheelchairs, can help to promote inclusivity for all.
So too can reminding your communities that they don't need to walk to enjoy the StoryWalk(R) fun! We're thrilled to share that we have teamed up with New York's Pioneer Library System for their first ever Walk to Your Library challenge. This Summer they encourage everyone to be a little physically active by walking, running, cycling, boarding, scooting, or wheeling to the library. As the U.S. Department of Health and Human Services reminds us, the best way to be healthy is to Move Your Way! You can use our logo for your programs too. Get started at http://letsmoveinlibraries.org/logo
Learn more about this Summer physical activity campaign sponsored by the Pioneer Library System on their website:
"Kicking off June 28, 2021, this campaign encourages community members to walk or travel to the library without using a car. We hope Walk to Your Library will promote community health and wellness, foster environmental stewardship and sustainability, and increase exposure to the many early and family literacy resources available at the library.
Participation is not just limited to walkers; community members can also run or use bicycles, skateboards, in-line skates, handcycles, scooters, wheelchairs, and other mobility devices to travel to the library. Stop at the desk, report your activity and receive a treat!"
Finding the perfect StoryWalk(R) titles and partners
We often get asked about good titles for StoryWalk(R) installations. Since 2009, the publisher Readers to Eaters has focused its work around building food literacy from the ground up, with engaging books and educational programming to cultivate conversations about growing, cooking and eating food. Check out their website to learn more, and consider some of their books for your upcoming StoryWalk(R) or outdoor storytime programs.
Last August they worked with Minnesota's Saint Paul Public Library and others to bring a Story Stroll of their book The Thing About Bees: A Love Letter to Langford Park. Learn more and get inspired to weave together food and physical activity in your StoryWalk(R).
Another great way to find unique titles for your library's StoryWalk(R) is to ask the community to create the book! That's exactly what happened in Cedar Rapids, Iowa, where the Cedar Rapids Public Library published a book written by "group of fourth and fifth grade girls." The student-written book, entitled "The Wild Weather Week," is about a devastating flood that took place in Cedar Rapids in 2008. The topic was chosen due to the impact the flood had on students at the school and in the adjacent neighborhood. To bring this program to their community, the Cedar Rapids Public Library worked with "The City of Cedar Rapids, in cooperation with the Cedar Rapids Community School District, Taylor Area Neighborhood Association, Alliant Foundation, and Reed Park."
Teamwork makes the dream work! Who have you worked with to bring innovative StoryWalk programming to your community?
Apply to Become a Healthy People 2030 Champion!
The U.S. Department of Health and Human Services wants YOU to apply to become a Healthy People 2030 Champion. They write "We can only achieve the Healthy People 2030 vision of a society in which all people can achieve their full potential for health and well-being across the lifespan when we collaborate with partners nationwide." Learn more at Health.Gov and consider nominating your library for this designation.
Healthy Living at the Library bookiversary
June 18, 2021, was the one year bookiversary of Healthy Living at the Library, the book written by Let's Move in Libraries founder Dr. Noah Lenstra.
Learn more about this title on the book's web page. A lot of work went into this book and we'd love to hear your reactions!
Was this newsletter forwarded to you?
 Subscribe to the Let's Move in Libraries newsletter for monthly editions of success stories, educational opportunities, and food for thought that will deepen the impact of movement-based programs and services in public libraries. Also follow the project on Facebook and Twitter to stay up-to-date. The Let's Move in Libraries project focuses on how public libraries create opportunities for individuals of all ages and abilities to engage in healthy physical activity.